Things are seriously
INSANE!
I've got my exams in a few weeks so I'm totally stressed out right now. It's all just revision revision revision and my brain is bleeding out of my ears. It'll all be worth it after the summer when I ace those exams and start university though!
I
will
be back soon, I
promise
!
Current Mood:

stressed
Ip ManThe blurb:
A semi-biographical account of Yip Man, the successful martial arts master who taught the Chinese martial art of Wing Chun to the world.
My rating:
4/5
Tagged:
action, biography, drama
Date I watched this movie
03/04/2016
What did I think?
I really wasn't sure what I was going to think about this. Martial Arts movies, although I do karate, have never really appealed to me, but I agreed to let Faisal pick a movie and this is what he chose!
I will still say that this is definitely a slow starter, you have to wait a bit before you really get into it and you have to overlook the bad acting at the beginning. Once the movie kicks in, literally, then you really begin to appreciate it.
I think it tells a decent story of the life of Ip Man and the occupation of China by the Japanese at that time. Obviously I'm not sure how true to real life the movie is because I'm not familiar with the time period but it does add background to the character of Ip Man, so the movie wasn't just about kicking ass and taking names.
As far as the fighting scenes are concerned, Donnie Yen does do his art justice. I just loved the way the story make him seem invincible and you root for him when he fights the baddie who beats all the other masters.
Surprisingly good and I'm actually looking forward to seeing the rest of the series
Current Mood:

surprised


Sorry I've not been around. I kind of went and got myself grounded. Such a teenage thing to do, I know, and so embarassing because I've not been grounded in like 2 or 3 years. I did deserve it though - I was an awful horrible brat of a bitch to Jade Rachel and said some vile things. None of which I really meant, not at all - they all just came out in the heat of the moment.

We've sat and talked and everything and I know she knows I didn't mean it. But she also says she knows why I said them and stuff. So we're cool again. I'm mostly just embarassed.

I'm just getting my phone and internet and computer back again now. Oh how I missed them!
Hello!
Current Mood:

embarrassed
badfalcon
wrote a post the other day about the music she'd listened to in February and how eclectic it was.
I thought it would be quite cool to look at what I listened to last month. I know my music taste isn't particularly varied - I like pop music - and my top artists I listened to in February 2016 are:

5 Seconds Of Summer
Justin Bieber
One Direction
Meghan Trainor
Shawn Mendes
Mideau
Shannon Saunders
The Vamps
Rita Ora
Ariana Grande

See, like I said - I like pop music. It's fun to listen to and easy to find. 5SOS, Justin and 1D are definitely my favourites at the moment, although I'm surprised that Miley Cyrus isn't on the list because I
love
her!
My most played track was
Meghan Trainor - All About That Bass
If you're on last.fm, you should totally add me as a friend too!
http://www.last.fm/user/reganleanne/
is me :)
What have you been listening to recently?
7 Things In 2016 and 101 Things In 1001 Days, and since we've reached the end of February, I thought it might be an idea to check in and see how I'm doing.

My 7 Things In 2016:
Learn how to write calligraphy I haven't even looked to see if there's any books in the library or youtube tutorials. This may have to be a task to pick up once my exams are done
Start blogging regularly Yes! I think I've done this really well. I'm quite happy with my blogging.
Stop biting my nails :(
Take a vacation to Rome I will be going in the summer!
Find a way to be more organized I've managed to keep both my bedrooms tidy all year so that's a start
Try sushi My Aunt Emily has promised to take me but we've not made it yet
Be more patient, especially with myself I'm still working on how to do this

As for my 101 Things In 1001 Days:
Completed - 7
Write a list of 101 things to do in 1001 days!
Leave an inspirational note inside a book for someone to find
Buy a lottery ticket
Hug 10 people in one day
Hug someone on National Hug Day
Send a handwritten letter
Bake a chocolate cake
Keep my room tidy for a month

In progress - 7
Graduate college
Donate blood
Answer the "50 Questions That Will Free Your Mind"
Watch 26 movies I've never seen starting with each letter of the Alphabet
Read 26 books I've never read starting with each letter of the alphabet
Read 100 books
Start University
I started 2016 with two sets of goals -
It can't be
that
bad... hundreds of people donate and the nurses who do it are professionals and stuff but it's still a little overwhelming to think about it.
I just got an email from the Blood Donation service to remind me about my appointment and to give me some tips.
Preparing to give blood
Follow our tips to make your blood donation experience pleasant, safe and straightforward.

Eat
Eat regular meals to help you avoid feeling lightheaded.

Sleep
A good night's sleep will boost wellbeing.

Drink
Drink plenty of fluids 24 hours before donating, but avoid alcohol.

Wear
Put on loose and comfortable clothing, avoid tight sleeves.

Distract
Nervousness is normal, come with a friend or bring along a book or MP3 player so you can relax during your visit.

Know
Knowing your medical, body piercing and travel history will save you time.

Exercise
You can still exercise, but don't do anything more strenuous than usual: this applies before and after donating blood. Also ensure you are fully recovered and well hydrated before you donate blood.
My appointment is at 3:50pm tomorrow...
wish me luck?
I have an appointment tomorrow to give blood for the very first time. I'm scared and excited and nervous and feeling kind of
101 Things In 1001 Days
goals is to
Leave an inspirational note inside a book for someone to find
Today, I left this note inside a copy of Me Before You @ Waterstones in Kensington, London
One of my
Current Mood:

accomplished
Kelley Armstrong - The GatheringThe blurb
: Maya Delaney has always felt a close bond with nature. The woods around her home are a much-loved sanctuary and the pawprint birthmark on her hip feels like a sign that she belongs. But then strange and terrible things begin to happen in the tiny medical-research town of Salmon Creek!
My rating:
4/5
Tagged:
young adult, paranormal, urban fantasy, supernatural
Date I started this book:
21/02/2016
Date I finished this book
24/02/2016
What did I think?
The Gathering is the first in a new young adult trilogy set in the same universe as Women of the Otherworld and is similar her The Darkest Powers trilogy. The small town where Maya lives is run by the St. Cloud family and she believes they're working on top secret medical research. There's a good chance that's exactly what they're doing, but established fans will know who the St. Clouds are even though they've not featured heavily in her other books.
The plot is fairly slow and I'm not sure if it will appeal to readers new to Kelley's world. Personally, I love trying to make all the connections.
Sadly, the book doesn't really finish. It's designed as part one of a trilogy and it's obvious at the end that there's still much more to tell. I don't mind this so much because I've already started book two
Eternal Sunshine Of The Spotless MindThe blurb:
When their relationship turns sour, a couple undergoes a procedure to have each other erased from their memories. But it is only through the process of loss that they discover what they had to begin with.
My rating:
4/5
Tagged:
drama, romance, science-fiction
Date I watched this movie
21/02/2016
What did I think?
I watched this movie with my dad and Jimmy - my Dad's a big Jim Carrey film and I'd never heard of this movie until now.
The movie basically tells the story of Joel and Clementine, they had a relationship that did not end well, luckily for both, there is a doctor who offers an alternative to suffering from heart breaking: erase all the memories related to a person. While the premise sounds a little too weird, it establishes a very interesting possibility, what if you could do this? It makes you think about it for a while; yes, we do all have memories we would wish to go away, but would we do it? Is it better to forget than to face and learn from the experience? The `memory deleting' situation is definitely one of the best moments of the film.
And it is because in Joel's `memory deleting' process (which takes the most part of the film), we get to see all their memories together... tender moments that make you realize what a wonderful relationship they had. It is in this moment in which Joel faces the fact that he may not want to delete Clementine from his head. There are other subplots related to the characters who perform the `memory deleting' which are ok but do not add anything of value to the central story of Joel and Clementine.
While it has some funny moments the movie is not a comedy, actually Carrey's acting is superb in his character of quiet and indecisive Joel, Kate Winslet performs great as supporting Clementine in Joel's brain while his memories are being deleted.
Do not be fooled by the premise of the film, it is a very serious movie about relationships and what we learn from them.
Current Mood:

impressed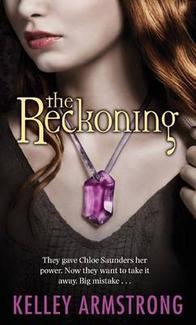 Kelley Armstrong - The ReckoningThe blurb
: Chloe Saunders is fifteen and would love to be normal. Unfortunately, Chloe happens to be a genetically engineered necromancer who can raise the dead without even trying. She and her equally gifted (or should that be 'cursed'?) friends are now running for their lives from the evil corporation that created them.
As if that's not enough, Chloe is struggling with her feelings for Simon, a sweet-tempered sorcerer, and his brother Derek, a not so sweet-tempered werewolf. And she has a horrible feeling she's leaning towards the werewolf...
Definitely not normal.
My rating:
4/5
Tagged:
young adult, paranormal, urban fantasy, supernatural
Date I started this book:
17/02/2016
Date I finished this book
20/02/2016
What did I think?
Chloe, Derek, Simon and Tori have escaped the catches of the Edison Group with the help of Andrew. A former employee of the Edison Group, and a friend of the boys' dad, he and a small group of other ex-employees want to stop the experiments the EG are performing and feel the kids may just have the information they need to do so. But Chloe and her friends are cautious. They've been through a lot, escaped and been caught repeatedly, and betrayed by those they trusted completely already, is Andrew's offer of help too good to be true? And even if it is, do they have a choice about staying with him?
I liked the previous two books in this trilogy, but I didn't love them. I always felt like they were lacking something. But this one I liked a lot more. It felt smoother, like the series really hit its stride. It's well-paced with a fair bit of action and some good twists and turns. A couple of things along the way I really didn't see coming.
The love triangle between Chloe and the brothers, Derek and Simon, played out really well and I love how it worked out. Chloe grew up a lot through this book and it really showed. Not to mention she finally learned to stand up for herself. Aside from Chloe, I felt Derek and Tori grew a fair bit through this last book as well making them that bit more 'real' to me. Simon is pretty much the same, but his character serves his purpose just fine, without being forgotten.
Aside from the romantic entanglements, the plot is not so cleanly wrapped up. The biggest things are dealt with, but not everything. Why? Because while this is a trilogy, it's the first part of a series. The second trilogy is titled 'Darkness Rising' and follows different characters, subjects of a different Edison Group project. I'm just starting the first of them, The Gathering, and hope we do get to see more of Chloe and her friends.
Back to this book. While there are certain things left open-ended, the majority of plot threads are tied up in this book, or at least enough to give a satisfying conclusion. I would have liked a little more in some ways, but given this is actually the start of a series, which has at least three more books to go, I can't really expect it to be all tied up.